However, today, we see a variety of perfumes available in many scents that are within the reach of everyone.
Every perfume brand wants its fragrances to be shown off in the limelight. It's a desire of all perfume brands to be a leader in the world of scent makers.
With customisable perfume packaging, perfumers can create a totally unique and branded experience for their customers. Perfume boxes are truly an advertising tool for your scents on retail shelves.
In this blog article, we will discuss perfume packaging styles that convert the most, their peculiar advantages and more tips on customising these boxes.
The Circle like Round Packaging Boxes for Long Perfume Bottles
These boxes are the best choice if your goal is to display fragrances on the retail glass window so that customers should be tempted to visit.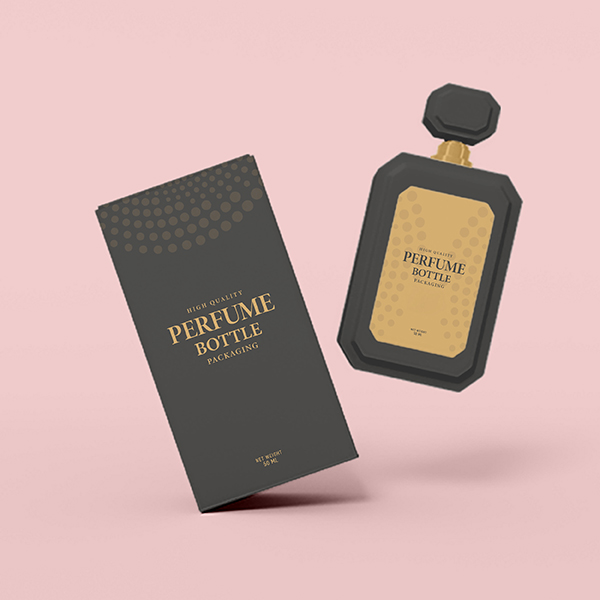 The circle-like rounded shape offers a distinct visual appeal that naturally gets an onlooking person to want to check out the packaging further.
These boxes are prepared as two-piece packaging. Rather than a sleeve, these boxes are made into shoulder style. The whole structure of these boxes features a circular lid on top which is relatively very small.
The pretty looks of this packaging shape appear to be just great.
If your goal is to immediately grab the attention of customers and get them to explore more, then it's ideal to use circular perfume packaging boxes.
The Modish Looking Long Shaped Perfume Packaging Boxes
The long-shaped boxes offer a superior class appeal for fragrances. We see that fragrance bottles are mostly longer in structure. And as the perfumers often have to display a lot of perfumes in limited spaced racks – these boxes are perfect. 
These boxes can easily fit on top of cavities in the retail display boxes. The sleek look of these perfume boxes stirs fascination, and they take up much less space as compared with another packaging.
The broad in width side panels of long perfume boxes can feature high-quality graphics and visible looking informational texts.
As these boxes are mostly made from high-quality cardboard, they can be printed using high-quality printing techniques. 
Moreover, by virtue of the material's durability, these boxes are quite resilient and protect brittle perfume bottles from breaking.
Shipping perfumes in these boxes is a hassle-free process because of the optimal sizing.
Sleeve Styles Two-Piece Boxes for Perfumes
These boxes truly give away a deluxe appeal to on-looking customers. 
The structure of these boxes is simplistic yet very elegant. A tray containing the scent bottle smoothly slides in and out of the packaging box – which is responsible for giving an aesthetic touch.
Customers love to use sleeve styled fragrance boxes as gift packaging to present to dear ones. 
Fragrance Packaging in Two-Piece Shoulder Design
For bestowing a luxuriously class apart look to perfume bottles – choose shoulder fragrance boxes.
The best thing fragrance brands do is that they make these boxes using rigid material.
We know that the rigid stock materials have a graceful texture and when moulded into the shoulder style – the elegance gets triple folded.
Such setup perfume boxes make little to no noise while opening to them – with the help of friction motion.
It's this sense of exalted deluxe touch that customers prefer perfumes in these boxes.
The Six-Sided Hexagonal Boxes
These boxes give a completely out of the world outlook to perfumes if the design and branding is done the right way.
Such a perfume packaging offers a distinct outlook that looks completely out of the world.
These boxes can be used to present a certain theme idea for packing perfumes.
Bonus Tips on Creating Highly Converting Perfume Packaging Boxes
The competition in the perfume-making space is already on the rise and brands are vying to sell their perfumes.
In order for your perfume brand to sell fragrances like crazy, you need to introduce the right customisation choices to your perfume boxes.
Only a well-designed fragrance packaging can give your products a branded outlook and outstanding presentation from retail aisles.
Let's explore some options.
Ensure a Deluxe Quality Brand Experience for Cologne Lovers
Cognoscenti pay special attention to not just the perfume type, but also the whole perfume packaging.
They do it to come to a final conclusion about the quality of your fragrance.
The perfume packaging should be such that it should have the power to entice an emotional response in fragrance lovers.
When you customise these boxes the right way – they automatically ignite a positive response in customers.
You need to make sure the perfume boxes are well branded – so customers have an idea of the brand story.
Colour Tints that Appeal to Senses
Fragrance boxes in your brand-specific thematic colours make your scents very distinguishable from the rest of the competition.
As perfume packaging is made from superior grade material. It's much easier to print colours on this packaging using advanced printing techniques such as CMYK and four-colour.
Build Your Brand Identity by Investing on Logo
Your perfume packaging is the only point of contact between customers and your perfume brand. This gives you only one chance to create a branded impression. You can do this in ways like:
Luxury-inducing Foil stamped logo in burnish gold, silver, or metallic.
The accentuating embossed logo that shows fragrances in a mysteriously elegant manner.
The Fragrance Range Should Clearly Appeal on Retail Display
From fresh and floral to woody – a fragrance is bought on emotions and instincts.
Your custom perfume boxes get your fragrances to slice up the competition with the right customisation possibilities.
In this respect, you need to work on the whole outlook of the packaging.
Graphic, Imagery & Artistic Patterns for Instilling a Want in Customers
Fragrance boxes with artsy graphical drawing appeal to the senses of onlookers.
Go for converting patterns such as brocade or floral while packing ladies' perfumes. And choose manly patterns like tartan plaid or hound's tooth to give more of a masculine touch to the fragrance.
Whereas, intricate artsy graphics work well to augment the whole appeal of fragrances in a depictive way.
Apprise Customers of Product Information in a Clean & Elegant Way
Knowing more about the colognes helps customers in making a buying decision. Information transmission is in an effective way is very important.
You need to do this in a minimalistic way so that the appeal of the perfume packaging is not disturbed as a whole. And to do that, choosing the right typographic elements is important.
Aesthetically Uplift the Readability of Product Details with Typography
Perfume packaging allows you to beautifully assimilate texts within the overall design of perfume packaging.
Use calligraphic fonts that are beautifully eye-catching and make the letters appear clearly visible. From font styles to boldness – all typographic elements should be considered for an aesthetic textual outlook.
Concluding the Above
The above discussion shows us why perfume packaging is so important to your fragrance brand's success. With Dodo Packaging, you get the most well-designed perfume boxes that serve all your needs well. With us, high quality and cost-effectiveness is a surety. We cater to all sizes of orders on custom boxes and offer huge discounts on wholesale rates. Contact us today to get an instant quote.