Popcorns are one of the most favourite food items of people around the world. They are popular snacks for different gatherings, either in the cinema or at home with family; people enjoy them on different occasions. Various popcorn boxes are used to serve popcorns around the world.
Popcorns are available in different flavours and toppings. However, although they are roadside snacks, they become very valuable when served in custom popcorn boxes. High-quality and attractive custom popcorn boxes look appealing to customers.
These boxes also play a major role in protecting their freshness and taste. The excitement of customers gets increased when they receive their snacks in well-designed packaging boxes. Therefore, Dodo Packaging UK provides you with the best packaging services in the town. Our amazingly designed popcorn boxes are ideal for gaining positive feedback from consumers.
Secure The Freshness Of Your Popcorns In High-Quality Popcorn Boxes
Popcorns are not just ordinary snacks, but they have great importance in everyone's life. People consume them on a large scale on various personal events such as birthdays, parties and family get-togethers.
Therefore, keeping these popular items safe and secure is the topmost concern of companies. No one would like to receive their favourite snacks in ordinary or damaged custom popcorn packaging. Furthermore, popcorns are edibles and are very sensitive to spoilage. Preserving them in low-quality boxes can be very harmful to the consumer' health.
Hence, to keep them safe and deliver them to the buyers perfectly, they need to be packed in robust packaging. For this task, Dodo Packaging UK manufactures popcorn boxes with superior quality material.
Popcorns need to be packed in strong and sturdy boxes to keep the product safe for a long time. It is necessary to preserve the freshness and taste of popcorns. Popcorn boxes manufactured with premium quality material are the top choice of consumers because these boxes allow the customer to enjoy the snack perfectly.
We have tons of options for materials that you can choose according to your preference. The material we use for popcorn boxes is strong enough to keep the popcorns safe, such as; the cardboard and Kraft material. Cardboard material is the best choice for custom popcorn packaging. It is very flexible and strong.
The ideal thickness for this material is 12pt to 14pt. Moreover, the Kraft material is highly recommendable for eco-friendly custom popcorn boxes. This material can also be recycled.
Get Trending In The Food Industry With Stylish Popcorn Packaging
In the past, boxes were only used for protecting what's inside, but nowadays, they are most commonly used for business and marketing purposes. Hence, Dodo Packaging UK always comes up with different and unique ideas to make your products stand out among thousands of other products.
These new and creative techniques are perfect for getting the potential audience's attention on a large scale. One of the most common methods we use is the die-cut window. Popcorn boxes blue with die-cut windows are a win-win situation for food lovers. When consumers get to see their favourite snacks even before eating, their cravings get more excited.
Furthermore, these boxes look unique and stylish. Such boxes catch the person's attention passing by instantly, and as a result, you will notice a great increase in sales.
However, the window-cut design is divided into two types; the die-cut window and the PVC window. Both of them are slightly different. In die-cut, the audience will get a clear view of the product inside, whereas, in the PVC window, the cut part of the box is covered with a polyvinyl sheet. These boxes are the ideal option for popcorn boxes because they provide excellent protection along with the stylish.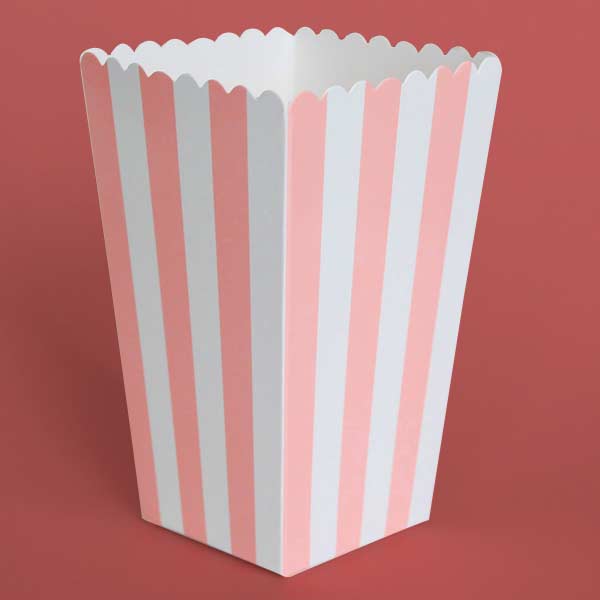 Visually Attractive And Amazingly Printed Popcorn Boxes Play A Significant Role In Marketing
Promoting your product and advertising your brand are the top concerns of the companies. Along with the good quality material and amazing designs, it is vital to enhance the outlook of your boxes and make them look eye-catching. The audience won't even look at the products with boring and dull boxes.
Printing custom boxes with standard info, exciting captions, and attractive images or animations will ultimately beautify the outlook of the boxes and will, in turn, increase purchasing power. Dodo Packaging UK provides you with different printing options, such as digital printing, offset printing and flexography.
You can print your brand's logo on these boxes to get recognition. To make the popcorn packaging mesmerizing for kids, we recommend you print these boxes with cartoon characters and mouth-watering popcorn images. Moreover, you can print these popcorn boxes with other designs, patterns and artwork to fascinate your customers.
Colourful Popcorn Packaging Look Tempting And Impress Buyers
However, colourless printing or designing would be useless; thus, it is always necessary to choose the perfect colour combinations for packaging. Kids widely consume popcorns, and anything related to kids should always be colourful and bright. No matter what age, people nowadays get impressed by items that appeal to them from far. 
Colours are the first thing that comes to the notice of the buyers even before touching the boxes. Therefore, they play a vital role in creating the first impression. And for effective marketing, your first impression needs to be powerful enough. Hence, it is essential to choose vibrant and bold colour schemes for custom popcorn boxes.
We offer two amazing colour models for this purpose; these are The CMYK and PMS. Both these colour models give pigmented and good-quality results. Also, they provide a wide range of shades so that you can easily choose whatever you like!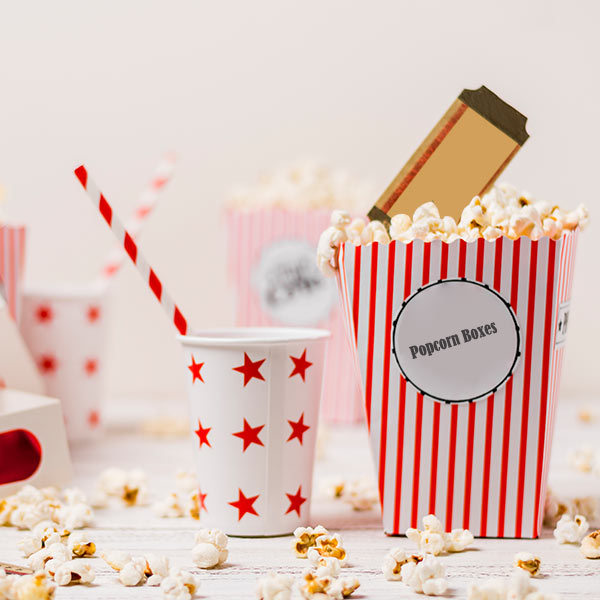 Gorgeous Coatings Give A Unique Finish To Popcorn Boxes
Moreover, Dodo Packaging UK also provides you with different coatings. These coatings give a luxurious touch to the boxes and protect boxes from damage and environmental effects such as moisture, pollution, and dirt.
The coatings are; Gloss coatings; they give the packaging a glossy and shimmery touch. If you love glitter and planning to arrange a party/event with your friends or family, then custom popcorn boxes with gloss coatings will do the work accurately and amazingly. If you are looking for a simple and non-shiny packaging solution, then matte coatings are a suitable option.
Furthermore, there is a long list of customizations we offer for popcorn boxes pink. These additional features work perfectly to give your boxes an outstanding outlook. These add-ons will help to increase the sales of the product, which in turn provide more benefit for the brand. 
You can use the Embossing/ debossing technique, and Gold/silver foiling can be used in different striking colours to make the text prominent. All these customizations look fabulous and enhance the visibility of products.