Product packaging for retail products is often overlooked. After all, the product itself is what people are buying! However, product packaging can make a huge difference in getting customers interested in your brand and ultimately purchasing your items. Custom printed stickers UK provide retailers with the opportunity to add that personal touch to their products–and create an emotional connection with their customers. In this blog post, we will discuss some different design options available for custom stickers and how they can be used to improve branding and increase sales.
Benefits Of Using Custom Stickers For Retail Packaging
Custom-made stickers in the UK for product packaging can be used to add a branded touch. Custom printed labels contain your brand name and logo, which help customers immediately identify the source of purchasing products. This also helps protect against counterfeiting–if you have custom printed logos on your goods, consumers will know that they come directly from you! If people are familiar with your brand, they will be more likely to trust it and are more likely to make a purchase.
In addition to branding, custom stickers can also be used for marketing purposes with the help of custom label printing in the UK. For example, you can use them to create special offers or discounts that are only available when customers purchase your product. You can also use stickers as part of a contest or giveaway promotion in order to drive traffic and sales. The possibilities are endless!
There are many different types of custom stickers that can be used. You can make your own stickers in the UK and choose from a variety of sticker shapes and sizes. These include circle labels, square labels, and rectangle labels–even die-cut stickers! There is also a wide range of materials to consider when choosing your custom printed stickers in the UK: vinyl options include clear or opaque colours; paper choices include matte or gloss finishes in several thicknesses for added durability.
Design Options In Custom Stickers
In addition to creating a professional look, these materials also offer different benefits, depending on the application. For example, paper labels are more suitable for short-term applications or products that will be thrown away after use.
Vinyl
Vinyl is a great choice if you need your custom made stickers in the UK to last longer and stay stuck in place–and they're perfect for outdoor use as well! Clear vinyl can also provide extra protection from liquids, scratches and dirt buildup.
Unique Shapes
Custom die-cut stickers allow you to create unique shapes with rounded corners that stand out from the rest of your product's design. They require no cutting or trimming, so it saves time too!
Custom stickers are an easy way to improve branding and increase sales! Whether you want your custom labels to be extra fancy, fun, or functional–there are many different options available depending on what you're looking for in order to get noticed by customers. You can make your own stickers in the UK with whichever shape you like. With all these choices, there really is something out there for everyone!
Many different design options are available for custom printed stickers in the UK. Some popular choices include die-cut shapes, full-colour printing, and metallic finishes.
Die-Cutting:
Die-cut stickers are unique because they are cut into specific shapes that can really stand out. They are perfect for adding an extra bit of flair to your product packaging and can be used to communicate specific messages or ideas. For example, you could use a die-cut sticker in the shape of a flower to promote a new line of floral products.
Full-Colour Printing:
If you want your stickers to really stand out, full-colour printing is the way to go! Dodo Packaging offers the best custom label printing in the UK. This option allows you to print photos, graphics, and text in rich, vibrant colours that will catch the eye of customers. Full-colour printing is perfect for retailers who want to show off their products in the best light possible.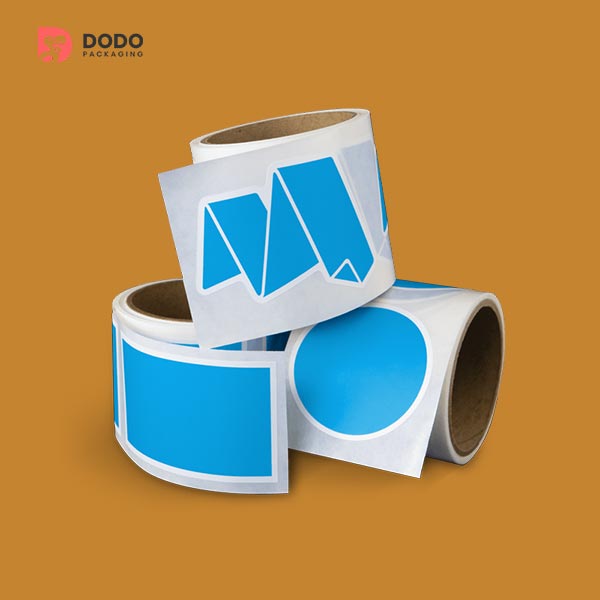 Metallic Finishes:
If you want your stickers to have a luxurious feel, metallic finishes are the way to go. Metallic inks reflect light and add a touch of glamour that is sure to stand out on product packaging. They are perfect for brands that want to convey a sense of luxury or high quality.
Digital Printing:
Digital printing is a great option for small quantities of stickers. This method uses digital printers to create stickers in full colour, so you can achieve the same level of detail as with traditional printing methods.
Offset Printing:
Offset printing is a traditional print process where the design is transferred to rollers and rubber plates before being stamped onto stickers. This method delivers great results, but because it requires plate production, you will need large quantities of custom printed labels in order for this method to be cost-effective.
Embossing:
Embossing is a great option for anyone who wants to add design elements that stand out with custom label printing in the UK. This method heats the paper until it's warm and then presses metal or plastic designs into it to rise slightly above the sticker's surface.
Debossing:
Debossing is the opposite of embossing. It involves pressing designs into the sticker instead of raising them above the surface. This can be a great way to add visual interest and make your custom-made stickers in the UK stand out from the competition.
Stickers Can Help You Improve Product Presentation In Many Ways
Product packaging often goes overlooked when people purchase items at retail stores, but adding custom stickers can make them more memorable while improving brand awareness and driving sales up.
When it comes to product packaging, custom printed stickers in the UK can make all the difference! They add branding and marketing power while also providing an extra touch of luxury and uniqueness. If you are looking for a way to set your products apart from the competition, custom stickers are the answer. Contact us today to get started!
Custom printed stickers are easy to improve your brand and increase sales. They can make packaging more memorable, provide a sense of luxury for high-end products, or even stand out on product displays at retail stores.
For any business looking to take their marketing efforts up a notch without spending too much money, custom stickers may be the answer you're looking for!
If you want help deciding which type of custom printed stickers in the UK are right for your business needs contact us today. Dodo Packaging will work with you one-on-one to find the perfect design option for improving customer experience while also increasing profits.