Soaps are one of the basic needs of people for ages. In the past, people used them just as a cleaner but now they are famous for several other reasons. However, soaps also work amazingly to heal different skin issues. There are different types of soaps available in the market, such as beauty bars, cleaning soaps and detergents. Soap packaging boxes are available to beautify soaps.
Hence we use soaps for cleaning and maintaining hygiene; they also need to protect themselves from dirt and harms. The significance of custom soap boxes in this regard cannot be denied. Any soap that is not adequately packed will ultimately lose its hygiene and pureness, and consumers obviously would not like to buy them.
Moreover, soaps contain various active ingredients that may react vigorously to different environmental conditions, such as moisture and excessive heat. Therefore, soaps need to be preserved in durable and safe packaging; otherwise, the shape and quality of these soaps would easily get deteriorated. Dodo Packaging UK is the name of trust when it comes to the best quality soap packaging. We never compromise on providing the best to our customers.
Here Are Some Amazing Benefits Of Soap Packaging UK
The popularity of soaps have increased tremendously. Therefore, their packaging plays a vital role for manufacturers and consumers as well. Premium packaging is the first thing observed by the consumers, and that is significant to the point where you can create a positive and powerful impression of your brand. Firstly, let's discuss a few reasons for the importance and value of custom soap packaging;
Durable packaging provides protection. Strong and robust packaging acts as a protective shield for the soaps and protects them against different environmental harms or damages that may occur during storage and transportation. These boxes are excellent to keep them safe from wear and tear on shelves and from getting contaminated with dirt or germs.
Great packaging increases the shelf-life of the soaps. The reliable and durable soap boxes keep the soaps secure for a longer period and increases their shelf-life. Soap boxes reduce the chances of harm and damage that a soap bar may face.
The packaging gives precise and effective information about the product. Nowadays, the audience is knowledgeable, and thus they demand packaging that is informative. The packaging must be designed in a way that it should speak for the product itself. Our custom soap packaging provides valuable and standard information about the product.
The packaging gives an excellent display to your products buyers always prefer to see the packaging that looks unique and professional. Our beautifully designed packaging helps the buyers to understand and realise that we have put a lot of energy and effort to satisfy them.
 Packaging helps in the marketing of the product. Premium quality soap packaging with striking colour combinations and creative shapes are the best marketing tool for your brand. Such packaging provides recognition to your brand and makes your products look stunning, among many others.
Quality Always Comes First!
It is always said that it's not the brain but the eyes that decide. Thus, it is important to have soap packaging that appeals everyone. The first thing that consumers look for is the quality of packaging.
Therefore it is necessary to manufacture soap boxes with high-quality material. Dodo Packaging UK does not compromise on quality, especially for sensitive products like soaps. Thus, we provide our customers with the best quality soap packaging UK. These boxes not only protect the soaps but also help you to build a long-lasting and loyal connection with potential consumers.
Moreover, our high-end soap packaging helps you convey a positive image of your brand and sets yours apart from others. These boxes also help in business retention and attracting new buyers, thus uplifting your business. Our good soap boxes wholesale UK can significantly influence the buying decision of consumers.
We use high-quality and nature-friendly materials to manufacture the soap boxes, such as cardboard and Kraft. The Kraft soap boxes UK has gained immense popularity over the past few years due to its amazing nature-friendly property.
This feature makes them an ideal choice for custom soap packaging. These boxes are not only suitable for the environment but also reliable for your business. The Kraft material is reusable and can be recycled that will help you to save money and minimise the manufacturing cost.
Moreover, your customers will be greatly impressed by choosing our Kraft soap boxes because getting associated with a brand that is concerned about nature would satisfy them. Furthermore,
Our Kraft boxes are affordable as compared to other materials and also easily customizable. We also provide various laminations such as matter/gloss coatings, gold/silver foiling and spot UV for Kraft soap boxes to make them resistant to moisture and water.
Display Soap Boxes Exquisitely In The Market And Strengthen Your Business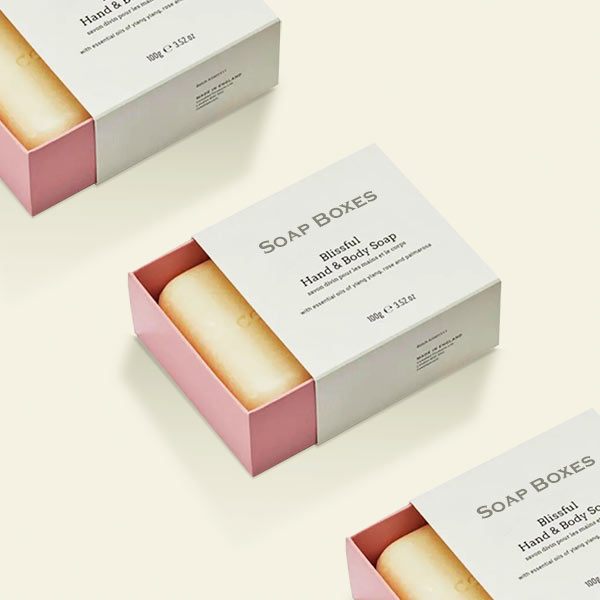 You can see thousands of soap brands in the market, due to which the competition has drastically risen. Therefore, it is imperative to be mindful of your custom soap packaging. Dodo Packaging UK provides various techniques that are helpful to enhance the beauty of the soap packaging boxes so that you can promote your products effectively. Printing is one of them. Custom soap packaging that is printed with important details about the product and brand is the best way to get maximum attention from the audience. Our professional designer team and high-tech printing methods allow you to print the soap boxes with attractive designs and catchy images. Such boxes are liked by the audience and are a powerful way of advertising. The printing methods we offer are digital printing, screen printing, and offset printing.
In addition, custom soap box printing UK with logo work efficiently to boost your sale and encourage brand awareness greatly. Moreover, printing the soap boxes with eye-catching and bright colours become irresistible to customers and leave an impressive impact on your brand. Colourful soap packaging looks unique and helps to drive more sales. However, CMYK and PMS are two mainly used colour models that can upgrade the value of your products and can change their appearance incredibly.
Determine The Worth Of Your Brand With Stunningly Designed Soap Packaging Boxes
In such a hyper-competitive market, companies are always looking for creative and unique packaging to set them apart from others. Dodo Packaging UK offers you beautifully structured custom soap boxes. These boxes not only look stunning but also increase the worth of products. Our custom soap packaging comes in a variety of shapes and styles to meet the requirements of the product and buyers. These soap boxes not only preserve the products and also help your brand to gain success rapidly because of their stylish outlook. These styles include; pyramid boxes, pillow boxes, gable boxes, sleeve boxes, tuck-end boxes and two-piece boxes. Moreover, we also provide soap boxes with see-through windows. The soap gift boxes wholesale with die-cut windows give a clear sight of the product and increase the chances of quick sales.