Custom printed lipstick packaging are great tools that can help fulfil your marketing goals, increase brand awareness and give your cosmetics a professional look. Most importantly, they are an excellent way to promote your brand and advertise your products.
However, in an industry where every brand opts for custom printed lipstick packaging, making your boxes stand out is important.
Many lipstick packaging UK suppliers offer various printing and finishing options to make your boxes look unique and more presentable. Yet, to truly make a mark with your wholesale lipstick boxes, you need to be a little more creative.
Here are some interesting ways to make your lipstick box packaging look more appealing:
Get them printed in your brand colours
Use interesting shapes and sizes
Use die-cut windows
Incorporate special features
Get them printed on Kraft paper
Add a message or tagline
Use gold or silver foiling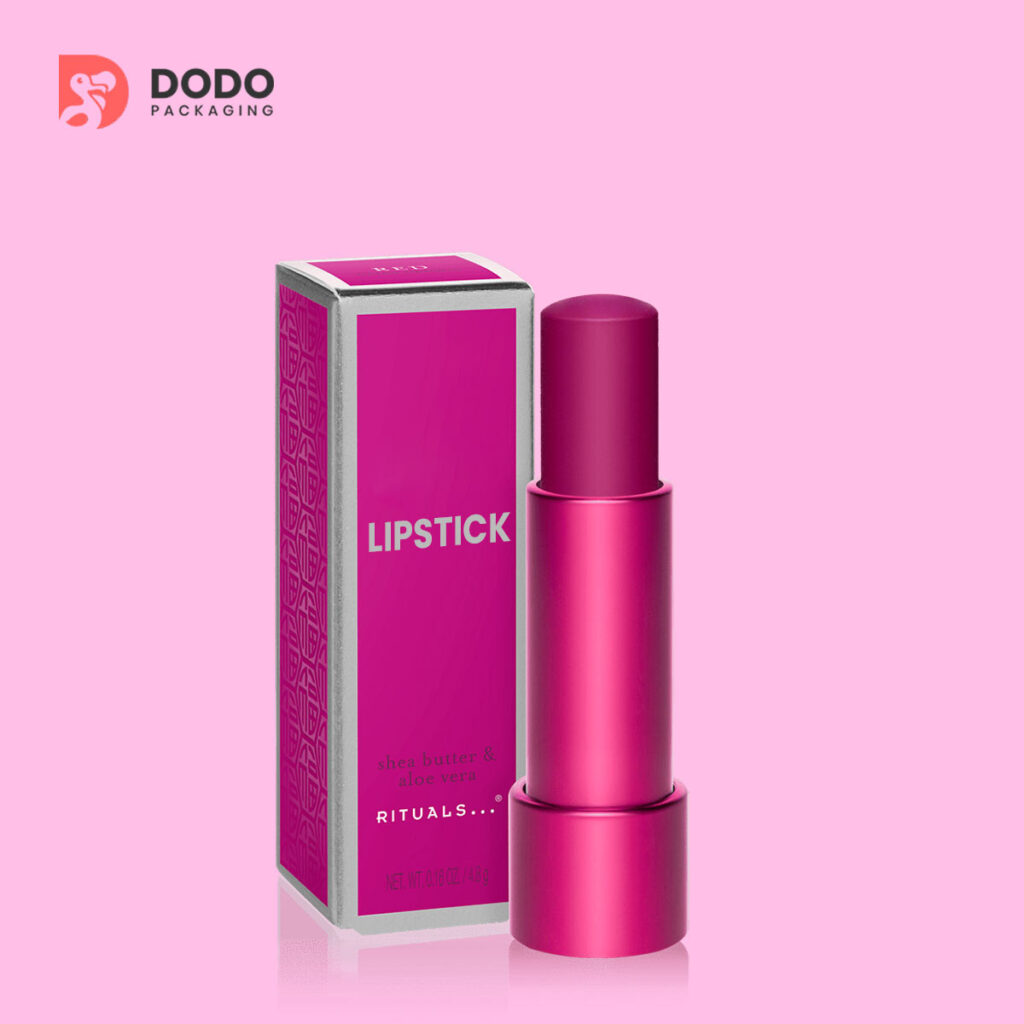 Using the seven points mentioned above, you can make your boxes more visually appealing and give them a luxe look.
So let's learn about these points in detail.
1. Get Them Printed In Your Brand Colours
Your lipstick boxes serve as an extension of your brand; therefore, getting them printed in brand colours is important. This will not only make your boxes easily recognisable but also help build customer loyalty.
To get brand matching colours, you'll have to think carefully about the colour models you use.
For custom printed boxes, you can either use the CMYK or PMS colour model. The former is used for digital printing and the latter for offset printing.
CMYK allows you to print a wider range of colours, but it doesn't provide exact brand matches. On the other hand, PMS printing is more expensive but provides better brand colour matches, which is ideal for matching shades with your brand colours.
2. Use Interesting Shapes And Sizes of Lipstick Packaging
To make your wholesale lipstick boxes more appealing, you can use interesting shapes and sizes.
Lipstick boxes are generally available in the standard rectangular shape; however, you can get them die-cut in any other shape of your choice.
Some common die-cut shapes for lipstick boxes include oval, square, circular, and heart-shaped.
You can also get them die-cut in the shape of your lipstick bullet. That allows a great fit and provides better protection to your product.
3. Use Die-Cut Windows
If you want to make your custom printed lipstick boxes more attractive, you can get die-cut windows incorporated into their design.
Die-cut windows allow customers to see the lipstick bullet without having to open the box. This helps create a better unboxing experience and also makes your boxes more alluring.
If you want, you can get the die-cut windows in the shape of your lipstick bullet. That will give your boxes a unique look and make them more appealing.
Furthermore, it allows potential customers to view the lipstick bullet without having to open the box, which is always a good thing.
4. Incorporate Special Features
Another way to make your lipstick packaging more attractive is to incorporate special features into its design.
One popular feature you can add is a built-in mirror. That way, your customers can easily apply the lipstick on the go.
Another useful feature is a built-in sharpener. This allows your customers to keep their lipstick bullet sharp and ready to use.
Special features like that help increase the functionality of your packaging and make it more attractive to customers.
5. Get Them Printed On Kraft Paper
One of the best ways to pull potential customers who care about environmental protection is to get your lipstick box packaging printed on Kraft paper.
Kraft paper is a recyclable and biodegradable material that helps reduce your carbon footprint.
In addition to that, it also gives your boxes a rustic look that is very popular among customers these days.
So if you want to make your boxes more appealing and sustainable, you should definitely consider using Kraft paper.
6. Add A Message Or Tag line
Another way to make your lipstick boxes more attractive is to add a message or tagline to them.
Your message should be something that is relevant to your brand or product.
For example, if you are selling organic lipsticks, you can add a message like "100% organic" or "Made with love".
Your message should be something that will resonate with your target audience and help you communicate your brand's message.
Furthermore, to make it stand out, you can use techniques like embossing and debossing. These methods will help your message pop and make it more visible.
You can also opt for something like spot UV to make it more glossy and visible.
7. Use Gold Or Silver Foiling
Lipstick packaging UK manufacturers also offer gold or silver foiling as an add-on option.
Foiling is a printing technique in which a thin layer of metallic foil is applied to the surface of your boxes.
This adds a touch of luxury to your packaging and makes it more alluring. However, that is not all. You can use this technique to highlight edges and borders or to add a message.
For example, you can use foiling to add your brand's logo or tagline. This will help make your brand more recognisable and increase its visibility.
You can also use it to highlight important details like the ingredients used or the manufacturing date.
Conclusion
This article has discussed some of the ways you can make your custom printed lipstick boxes more attractive.
Remember, the key is to make your packaging more alluring and functional to help increase sales.
You can start by using die-cut windows or incorporating special features like built-in mirrors and sharpeners.
In addition to that, you can also get your boxes printed on Kraft paper or add a message or tagline to them.
Finally, you can use gold or silver foiling to add a touch of luxury to your packaging.
If you are looking for a lipstick packaging UK manufacturer that can help you do that and more, contact Dodo Packaging today!
Our custom printed lipstick boxes are bound to leave your customers breathless!