You have to create your custom soap packaging boxes to attract your customers and make your product better. Customers prefer to purchase soaps with their preferred flavours and scents. Therefore, the packaging must also be able to match it to the product. Another important function of custom packaging is it helps the buyers to know about the ingredients of the soap before they use it. Customised soaps are a huge success in the market. The demand for it has been increasing steadily. But to create a competitive business, you need to upgrade the design of
Customised soaps are a great way to display your products and promote your business. Apart from the fact that they help you promote your business by displaying them on store shelves and sending them to different places.
You can add an appealing look to the exterior packaging with custom-made soap packaging boxes. A box is a common household item used to keep different kinds of items together. But a unique looking box is an even more attractive item. Different materials can help you to stand out from the crowd and create a unique appeal.
Helps to make the best and wise decision: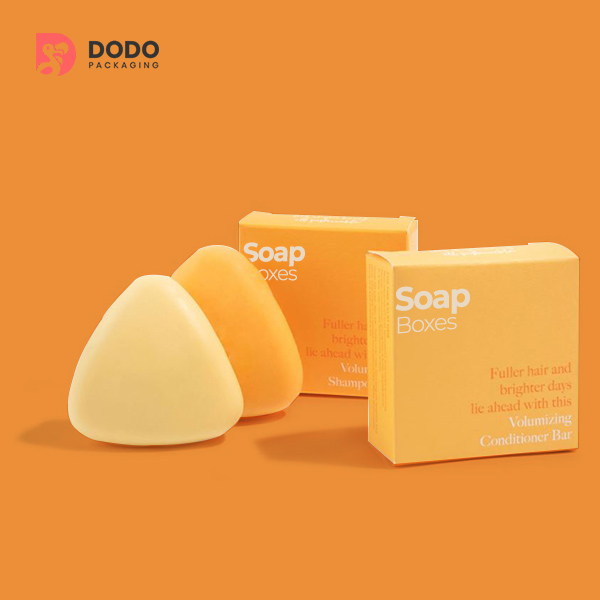 There are many types of soaps available in the market today, which makes it difficult for people to choose the best one for themselves. In such a case, custom-made packaging of the soaps can be a great help. There are two different types of boxes available in the market today, which includes cardboard and kraft. While cardboard is commonly used for wrapping fragile and valuable items, kraft is a good alternative if you look for eco-friendly boxes. However, people have a preference for using boxes made of fine quality material. To give the boxes a stunning look, you can choose custom wholesale soap packaging materials.
Enhance the appeal and add all the details on the top of the box:
However, you can customise the look of boxes by adding graphics, logos or images to them. Companies can add their company name or logo to the bar of soap to promote themselves. Furthermore, some companies also like to use attractive text on their custom soaps wrapped in stylish colour boxes. Text can be anything that describes the product. For instance, if you are selling hand cream, you can print a product description on the box along with the brand name and website address.
Companies can also add promotional texts on their soaps boxes to make their customer feel special. Plus, it is essential to customise your soap packaging because it helps grab the customer's attention. It persuades them to open the box. Soap packaging boxes with attractive designs and unusual shapes can catch the attention of customers more effectively. It will provide them instant pleasure and satisfaction as they realise that the box is not just ordinary.
Get the boxes easily customised:
There are many online stores selling different kinds of custom soap packaging. Most of these sellers provide attractive and stylish packaging options for bulk soaps. You can choose from a wide variety of soapboxes to suit your requirements. Make the most of your business by investing in quality packaging material that can increase your sales.
Different Packaging Options For Soaps:
There are different packaging options for soaps that different companies use to get the attention of their customers. The leading manufacturers manufacture these soaps in the market, and they have achieved worldwide popularity. As a result, there is a great demand for various products used for different purposes like cleaning agents, laundry detergents and many other products. This is why the demand for soaps and packaging options for soaps has increased worldwide.
Soap manufacturers have introduced various options for packaging soaps. This helps them to increase the sales of their products in the markets.
Many soaps manufacturers provide different packaging for their soaps depending upon their products. Some of the common soaps include cleansing bars, bath additives, body splash, facial toners, shaving gels and conditioners, scents and deodorants. So, the best option for a customer is to check out the different packaging options available for their products to choose the right one according to their needs.
Packaging materials equally matters:
In addition to the materials used for manufacturing the soaps, the quality of the packing also matters a lot. Some of the quality soaps do not use any packing material, but some other companies use high-quality papers for soap making. As a consumer, you should select the best one that uses eco-friendly materials for packaging the product. It should be noted that the packaging options should be considered after considering the soaps' quality. The soaps which do not use eco-friendly materials may cause damage to the environment.
How do Soap Boxes Help In Increasing Sales?
Many experts will say that how soapboxes help in increasing sales is through the variety of items they can help you with. While they may have come across as a common household item, they can be used to sell products. Soap is something that everyone has lying around the house. However, if you could get some of it to sell for you in the form of profit, then that is certainly something that could happen. You could even sell the soap in different flavours or scents. That means there is no limit to how many kinds of things you can pack in a single box.
You don't have to break the bank:
That is an excellent thing for any business because it allows you to get involved in other businesses. Soapboxes help increase sales; it is easy to do all the advertising you want without spending too much money on advertising. Moreover, this is a great way to get into the business, but it doesn't have to cost a lot of money. You can find some very reasonable prices for them. It doesn't matter if you sell in a store or online. You will be amazed at how easy it is to increase sales by using them. Plus, if you wonder how soapboxes help increase sales, it is easy to see how they can be a wonderful business investment. It is better to get your hands on soap gift boxes wholesale now.